SPILL CONTAINMENT & ENVIRONMENTAL
SORBENTS: PADS, ROLLS, BOOMS, SOCKS, PILLOWS
Sorbent products are found in almost every spill kit or work site which uses hydrocarbons, chemicals or other hazardous materials during regular operating processes. We offer a range of sorbent products including pads, bulk rolls, boom and other materials, all in a variety of sizes and material construction.
Sorbent products come in one of three broad categories: oil only, universal and aggressive. Oil only sorbents float in water, making them the choice among marine customers looking to absorb hydrocarbons both in and outside of a marine vessel. Universal and aggressive sorbents absorb both oil and water, which means they will sink in a marine environment. However, due to their material composition, they can absorb virtually any liquid, and in the case of the aggressive sorbents, they will withstand harsh chemicals.
Our sorbent pads are available in single weight, medium weight and heavy weight, and we offer three different quality grades. Higher quality pads will not only absorb more fluid, but they will also resist linting (i.e. leaving absorbent fibers behind) and they are dimpled for strength.
Download our complete catalog of environmental products here.
RANGE OF SPECIFICATIONS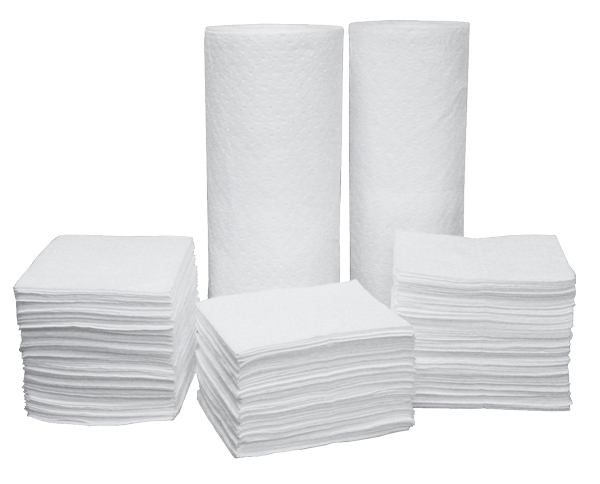 Media: polypropylene oil only, univeral, aggressive
Media Weights: single, medium, heavy
Sizes:
Pads: 15″ x 18″
Rolls: 38″ x 144″
Boom: 5″ x 10′, 8″ x 10
Mini-boom: 5″ x 15″, 8″ x 18″
Socks: 3″ x 4′, 3″ x 8′
Pillows: 9″ x 9″, 18″ x 18″